WE ARE BACK!!!
Due to a fire in January 2019, we have been down
for a year. We hope you'll write and renew our friendship.



SELF PORTRAITS:
The Self Family NetLetter

---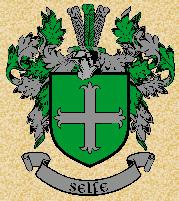 ---
The Original and Best Online Self Family Resource
---

WELCOME TO SELF PORTRAITS!
---
---

BRIEF HISTORY OF THE SELF FAMILY IN THE UNITED STATES
Most researchers believe that Olde Robert Selfe was the ancestor of most of the Self family in America. Arriving in Virginia in the 1600s, Robert Selfe appears to have been descended from Walter Selfe of Cripplegate, London, England. The name "Self" is thought to be a shortened version of "Seawolf," dating back to the early Viking voyages along the English coast. Many courageous Selfs became pioneers in our country's expansion westward, and the descendants of Robert Selfe were soon residents of the Southeastern United States from Virginia to Texas with several families settling in the midwest. Today, the Self name can be found in all fifty states.

Who was Walter Selfe? Read the article at "Self Seekers," January 1999, and search there for other information on Selfe history in England.

---
DO WE HAVE YOUR CORRECT E-MAIL ADDRESS?
PLEASE CHECK THE LOST COUSINS PAGES BELOW
we may have answers to your queries

---

Our Sites Require No Membership, Registration, or Sign-In
Read the articles from
Self Seekers (Link doesn't work yet)
1998 - 2014

---
YOUR HOSTS
TIM
Tim is the grandson of Homer Self, the little boy seated at the extreme right of the photograph on our "Family Album" welcome page. He lives in Southern California, and in addition to genealogical research, he's interested in computers, guns, and restoring old trucks. He's added six children, even more grandchildren, and two great-grandsons to his own Self portrait.
BARBARA
Barbara was a computer network administrator in a Southern California community college library, retired as of June 2010. She's been involved in family research since the age of 14 in New England.
---


THOMAS SELF (1758 - 1836):

A
NARRATIVE ABOUT THE DISCOVERY OF HIS PARENTS

Researched and Compiled by
Jim Self and Virginia Goode Turnbull

---
ENHANCE YOUR OWN SELF PORTRAIT
RESEARCH PROJECT
Contribute to our ongoing Self Family History research project. Pictures are always intriguing, but words will do just as well. Contributions of photographs, stories, copies of old letters and other documents, and most especially "family trees" of both your ancestors and your descendants will all be considered. If you're interested, please send e-mail to Webmaster

We enjoy corresponding with all of the "cousins" who discover Self Portraits.

---
---
Don't forget to check our LOST COUSINS pages if you didn't get an annual greeting in 2018


Have you changed your e-mail address lately? Please let us know so we can correct our files.

---
DNA PROJECT
Click HERE for information on the exciting new SELF DNA project!
Project Administrator: Kathi Bobb
---
ADDITIONAL RESOURCE

---
SELFSITE AT ROOTSWEB (Link Does Not Work Yet)


Our Website, SelfSite at is an extension of Self Portraits. SelfSite at is dedicated to facts. H ere you'll find our Census Tables as well as State by State/County by County families that make up our "Loose Ends" and "Dead Ends." Both projects are always in progress, so please check the site regularly. And if you would like to contribute Census records, please contact us.


---
SELF MAILING LISTS

Subscribe to our Self Surname mailing list!!
Send an e-mail message to SELF-L-request@.com (or, if you prefer "digest" form instead of individual messages, send the message to SELF-D-request@.com).
Turn off or delete your signature
Leave the "Subject" area blank
Type the word subscribe in the body of the message; do not add anything else
We hope you'll join us soon!
Please contact Webmaster if you would like information on our other listservs
---
SELF MESSAGE BOARDS
Please post your contributions directly to the -hosted Board. You may wish to place queries on both the Message Board and this Website.

---
If you'd like to post a query to help you find an ancestor, visit one of our Find YourSelf pages and then contact Webmaster with your request.
Page 7 has the most recent queries
---
COUSIN BARRY'S GENEALOGY BLOG
---
VIRTUAL REUNION
Please Join Us Online

---
PAUL SELF'S VISIT
by JoLynn Self
---
LINK YOURSELF
to our Link YourSelf page.
---
SELF FAMILY OF THE WEEK


Check out the featured family!
Updated each weekend!
AS OF OCTOBER 20, 2013, WE ARE FILLING IN GAPS FOR WHICH WE HAVE NEW INFORMATION--
THIS IS SUCH A LONG PROJECT THAT WE ARE PAUSING OUR FEATURED FAMILY AND
FAMILY RECORD UNTIL THE REVISIONS ARE COMPLETE.
THANKS FOR YOUR PATIENCE!

View past families on Family Record Online
A list of past families can be found on the Featured Family List page.
A second page starts with the Sixth Generation
A third page is devoted to more of the Sixth Generation
A fourth page contains the Seventh Generation
A fifth page continues the Seventh Generation

---

---
WILL OF OLD ROBERT SELFE
THE WILLS OF TWO ISAAC SELFES OF MELKSHAM
---
THE REVOLUTIONARY WAR RECORDS
of GARRETT WATTS
husband of Anna (Self) Watts
transcribed and contributed by Cousin Debbie
---
SOURCES PAGE
HelpYourSelf to source documents in print and electronic format
If you have a gedcom or other electronic file that you would be willing to distribute to other cousins, please let us know.
---
SELF FAMILY ALBUM
Picture your Selfs in The Self Family Album
Also visit The Self Family Album II
and The Self Family Album III
(Links to II and III Work But Photos Are Missing)

Can you identify the people on our SELF MYSTERY PAGE?
---
CENSUS/SOUNDEX RECORD PAGES
The Self Census/Soundex Records are now located at SelfSite at Rootsweb
---
SELF CEMETERY TRANSCRIPTIONS
---
READ ABOUT YOURSELF
in Self Revelations, page 1 Self Revelations, page 2 Self Revelations, page 3 Self Revelations, page 4 Self Revelations, page 5
Self Revelations, page 6 and Self Revelations, page 7

Self Revelations 8 is a special article about Thomas Self, husband of Oney Ham
---
We would appreciate
news articles about Selfs--births, marriages, deaths, feature stories, and special achievements
Census and Cemetery transcriptions

---
Click here to listen to 1848 Music Box --c1996 by Tim Seawolf-Self and Barbara Peck--while you're climbing your family tree.

Visit the Sons of Confederate Veterans Home Page

Click here to visit the Home Page of our Internet provider, Mediacom.
---

The Surname Web
---
The Soundex Code for "Self" is

---
Please add this site to your
And come back again soon
---
If you've visited this site recently, please reload or refresh your browser.
---
START YOURSELF
If you would like "Self Portraits: The Self Family Netletter" to start up when you first activate your Browser, follow your Browser's instructions to make us your Home Page!

---
This Site is Dedicated to
Mary Margaret Nichols
(1919 - 2013)
---
Click here to read the Legal Stuff
---
Copyright 1996-2021 Tim Seawolf-Self and Barbara A. Peck, All Rights Reserved
---
This page was last updated on December 12, 2020

.