SELF FAMILY ALBUM
Index Page 1
WELCOME
"May your stay be pleasant, And when you depart, May you take warm memories To treasure in your heart"
---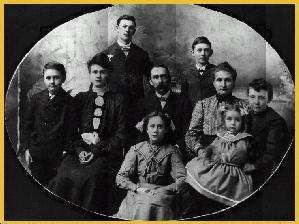 The family of George Washington Self and Margaret Ann (Miller) Self
---
We'd like to take you back beyond the fifties to the Selfs who lived in other times. Please use the index to find the images you want. Then click on the links below to go back in time and view photographs of your ancestors and the places in which they lived.
PLEASE ADD YOUR FREQUENTLY VISITED ALBUM PAGES TO YOUR
BOOKMARKS AND FAVORITES

---
Visit DeadFred for mystery pictures of your ancestors and relatives!
To go directly to the Self photos at DeadFred, click here!
---
ALBUM PAGES 1-10
---
Click here to view Selfs of Yesterday, page 1
William Andrew Jackson Self (1866-1920
Rev. C. C. Self (1854-1926)
Walker Lambert Self (1918-1965)
George Washington Self (1863-1925)
Vinson A. Self (1843-1921)
Ernest Self (1900-1987) and daughter, Jan
George Washington Self Family
Homer Self (1897-1959), Wife, and Grandchildren Tim and Pam
William L. Self (1889-1908)
Jennie (Self) (Rhoads) Bandy (1879-1974)
Clare Vanie (Melvin) Self
Nancy E. (Miller) Self (1828 - )
Arthur Self Family
Gilbert Selathaian Self (1850-1922) and Ailsey Louisa (Brison) Self (d. 1938)
Loal Self (1914-1975) and son Jimmy Steve (2 photos)
---
Click here to view Selfs of Yesterday, page 2
William Andrew Jackson Selph and wife Malinda Jane
Selph children
John Jackson Selph
Barry and John Selph
Littleberry Self, Jr. (1838-1903)
Tilford Hubbard Self (1851- ) Family
---
Click here to view Selfs of Yesterday, page 3
Samuel Edward Self (1880-1926) and wife
Nathaniel Self
Identification of Nathaniel Self
Frank Taylor Self and Joseph Taylor Self
Terry Self
Grave of William Washington Self
Selph Landing Road, Pasco, WA
Frank Selph (1905-1957) and son, Bob
James Elbert Self (1901- )
Albert Clay Self Family
---
Click here to view Selfs of Yesterday, page 4
Johnathan Mathew Self (1823-1864)
Yeocomico Church, Westmoreland County, VA
Andrew Jackson and Margaret L. (Self) Fry
Greene McClellan Self (1823-1893)
George Preston Self (1851-1886)
Claude Orval Self (1873-1942) (2 photos)
Frank Orval Self (1907-1983)
Self Cemetery, Vernon Parish, LA
TOMBSTONE of Nina Self (1900-1902)
Vinson Asbury Self (1843-1921), Magers Emberry Self (1866-1939), Willie Self
---
Click here to view Selfs of Yesterday, page 5
Lemuel Sanford Self (1860-1937) Family
Francis Marion Self Family
Albert Clay Self (1842-1936)
Susan Cordelia (Self) Foster (1875-1962) and husband Quincy Kade Foster
William Maxey Kay and Ann (Self) Kay (1838-1899)
Patricia Jane Self
Robert Efford and Patricia Jane (Self) Yarber
Samuel C. Self Family
Albert Clay Self Family
---
Click here to view Selfs of Yesterday, page 6
Joseph Nelson Self (1850-1920) Family (2 photos)
J. N. Self
Ervin Harrison Self (1888-1974) and wife, Luella Belle (Guest) Self
Mystery Couples
Amanda (Self) Sasser (1871-1914)
Eva Marie Self (1899-1966), Cora (Self) Cotton (1894-1975), Marion Melvin Cotton (1885-1976)
William B. Corle and Sarah N. (Self) Corle (1854-1887)
Calvin Asbury Self (1879-1964) and wife, Mary (Logan) Self
---
Click here to view Selfs of Yesterday, page 7
Edward Henry and wife (1903-1971)
Edward Thomas Self (1881-1929)
Rosalie Self (1902-1991)
Lourena Anna Selph (1849-1900) and husband, Franklin Alonzo Dunbar
Self Family Cemetery, Sabine Parish, LA
TOMBSTONE of David W. Self (1833-1896)
Amanda Melvina (Lewis) Self (1841-1913)
George Franklin Self (1870-1934) Family
Children of George Franklin Self (2 photos)
---
Click here to view Selfs of Yesterday, page 8
Asbury Mack Self (1834-1901)
Children of Asbury Mack Self
Alton Self (1921-1980)
Thomas Albert Self (1875-1935) and wife, May Beverly Walls (2 photos)
Self Cemetery, behind Hodges Gardens, between Many and Leesville, LA
Matthew Gilbert Self (1862-1902)
Adella Honeywell (Speegle) Self (1832- )
---
Click here to view Selfs of Yesterday, page 9
Martin Van Buren Jaggers and Mary Elizabeth Self (1873-1937)
James Washington Self (1914-1994) and wife, Euna Lee
Chesley Self (1861-1936) Family
Tyra Luther Self (1851-1913) and wife, Clare Vanie (Melvin) Self
TOMBSTONE of Elijah Self (1831-1905)
TOMSTONE of Joshua F. Self (1798-1880) and wife, Trymandia (Rothgeb) Self
TOMBSTONE of William R. Self (1847-1926)
Jane Virginia ("Jenny") Self (1826-1910)
---
Click here to view Selfs of Yesterday, page 10
Rev. S. C. Self (1870-1933)
Albert Clay Self (1842-1936) Family (2 photos)
Albert Clay Self in a Veterans' Group Photo
John R. Self (1842- ) Family
Julia Dean Self (1865-1953)
---
Go to Index,
Go to Index, page 3
Go to Index, page 4
Back to Self Portraits
Copyright 1997-2015 Tim Seawolf-Self and Barbara A. Peck, All Rights Reserved
This page was last updated on July 10, 2004